'EARN & LEARN FOR THE DESERVING' PROGRAM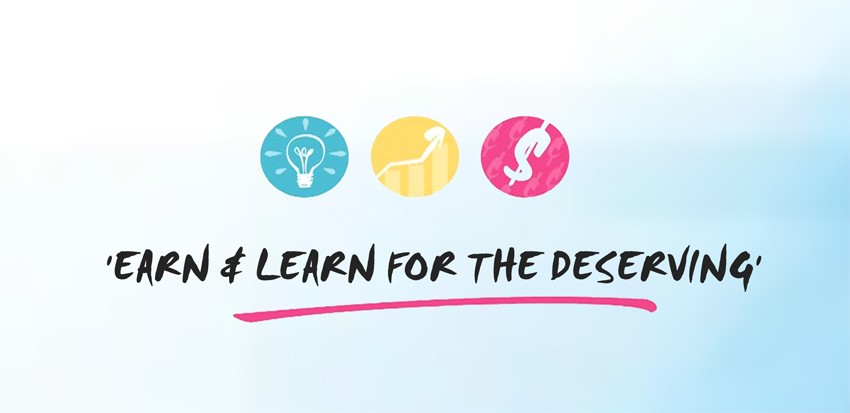 'EARN & LEARN FOR THE DESERVING 'program provides opportunities to the students of the National Child Development Council to earn while they are learning through part-time jobs. Vocational education is a great combination of work and learning. Through our innovative program, the students of various streams not only financially support their studies, but also gain practical experience which would stand by them in their later careers. This helps the students to gain first-hand experience of the corporate world and thereby develop their self-confidence and personality. Accordingly, the deserving students are encouraged by us to take up vocational training or part-time jobs after completing their regular classes or during holidays which would enhance their rating at the time of final placements. Students must weigh their qualification skills and knowledge more wisely because skills and capabilities are also important with ranks or grades. Benjamin Franklin quotes, "tell me and I forget, teach me and I remember, involve me and I learn" this defines vocational training.
IS WORK AND LEARNING A GOOD OPTION?
Yes, Definitely!
It provides opportunities for students to earn while learning to meet their fee expenses.
Exposes the students to the world of work before actual employment.
Gives students hands-on experience and confidence thereby preparing program them better for taking up jobs in the future.
This program turns out to be a major draw for several students who might have otherwise dropped out due to financial reasons.
NEED FOR EARNING WHILE LEARNING
Earning while learning is more than a necessity for students coming from poor financial conditions.
Working learners are more concerned about enhancing their resumes and gaining work experience than paying for tuition.
Students who work are upwardly mobile, much more aware of the working conditions, corporate ethics, and the world that they are going to enter. Hence, they will be prepared, emotionally and mentally, for the changes after their course completion.
Working learners develop stronger ties between the worlds of work and education.
The students are aware of their corporal value, they can choose wisely.
The already working graduates benefit from their work experience, which becomes an asset when they enter the full-time job market.
WHAT ARE THE OPPORTUNITIES PROVIDED BY NCDC?
FREELANCE SOCIAL MEDIA PROMOTER
We are engaged in various opportunities for working with us as Social Media Promoters who can enhance our brand and build strong online communities through our various social media platforms. You should have a good android phone and the training on various social media will be provided free by us. After successful completion of training and selection, you will be able to work as a Freelance Social Media Promoter.
Remuneration: Promotional works for 2 Hrs: Rs. 100/-
FREELANCE ADMISSION COUNSELOR
NCDC allows you to work as a Freelance Accredited Admission Counselor with a certificate. You can take admissions for Vocational Courses in Child Education and Rapid Spoken English after getting selection through our free training process.
Remuneration: For admission taking (Amount in Rs.):
| | |
| --- | --- |
| Course | After getting full Reg. fee & correct reg. form |
| CIPE | Rs: 2500/- |
| CIME | Rs: 3000/- |
| DIME | Rs: 3500/- |
| PGDIME | Rs: 4000/- |
| ADIME | Rs: 2500/- |
NCDC Rapid Spoken English @ Rs: 1000/- per admission if per head fee is Rs: 5000/- & Rs: 600/- per admission if per head fee is Rs. 3000/- (Proportionate decrease will come in admin share if the fee is below Rs: 5000/-). There is an opportunity for taking bulk admissions through various institutions also for which there will be concession fee availed.
FREELANCE CONTENT REWRITER
We provide opportunities to work as Freelance Content Rewriter for those who are able to rewrite available content from Google [well researched and adhered to our guidelines] in English. Simple guidelines will be provided-usually at least one keyword, a title, and possibly some links to include. You need to have research skills, so you can write on a wide range of subjects, and earn good remuneration. You can rewrite any number of articles after getting selected through our free training process.
Remuneration: Per article – Rs.20/-
FREELANCE NEWS WRITER
We give opportunities for ambitious, passionate, resourceful, and discerning students to join the News Desk team of NCDC. The news writer can work with the news team and focus on providing unique, important, and enterprising data-driven news and articles. You can prepare various news and featured articles after getting selected through our free training process.
Remuneration:
| | |
| --- | --- |
| News content preparation for print/visual/online medias [around 50 words] | Rs: 100/- |
| News article preparation [around 250 words] | Rs: 300/- |
| News publishing in print/visual media | Rs: 200/- |
| News publishing in online media | Rs: 150/- |
| News article publishing in print/visual/online media | Rs: 200/- |
OTHER FREELANCE JOBS ACCORDING TO YOUR SKILLS & TALENTS
We also allow you to work with us as Freelancers, if you have skills and talents in various fields like video editing, poster making, designing, etc. The works will be assessed and the jobs will be provided, for which remuneration will be done according to your work.